ST600µNET IoT Stepper Motor Controller
Until 256 Axes Trough Deterministic
Modbus TCP/IP, IGMP
---
Description
---
Each ST600ÁNet controls "Four" stepper motors independently with full chopper driver included, trough a set of different triggers mode. Can be connected "directly" to a host computer via USB HDI to IIC link, "or in conjunction" with rmv_Tasker Module (RTOS with Full Embedded Server), allowing in this way a full IoT capabilities via Ethernet 100T, WI-FI, or Bluetooth 5.
The ST600ÁNet Series can operate in both monophasic and biphasic mode, with step mode size as follows: full step, half step, quarter step, 1/8 step, 1/16 step, 1/32 step, 1/64 step, 1/128 step, and 1/256 step. The ST600ÁNet Series motor current depending on the model can drive: A) From 0.5 Amp to 5.0 Amps, and B) From 1 Amp to 8.5 Amp per axis. Furthermore, this series provides the capability of having a step rate as fast as 25,000 steps/second.
Each Motor Manufacturer Parameters can be saved to RMV859 Internal Flash.
In Addition, ST600ÁNet supports the following Motion Mode: Trapezoidal, Speed Control, Profile Motion, S-Curve, PI, Current Controlled, Sequential Trigger Motion, Closed LOOP, and Voltage Constant.
As part our commitment to "Open Source" ST600ÁNet application software will be supported to: Raspberry PI, Beaglebone.
Free samples can be downloaded via GitHub. Please see the link bellows.
ST600ÁNet Board
---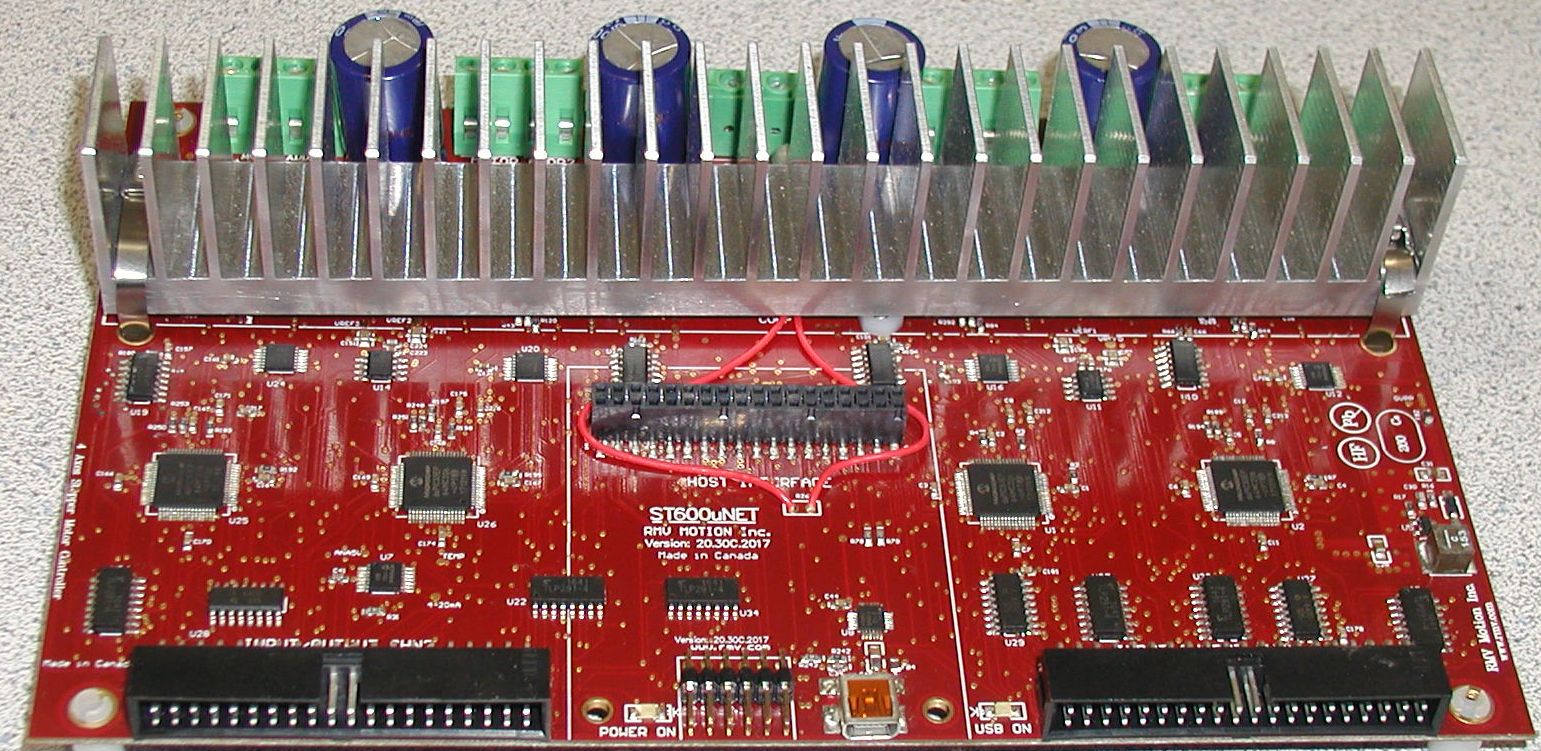 Features:
---
Step Modes
Full-Half step Monophasic & Biphasic, Micro Steps { ╝, 1/8, 1/16, 1/32, 1/64, 1/128, and 1/256 of step }. Mixed step resolution size can be achieved in real time via software commands.
Motor Chopper Driver
Independent motor current setting per axis from: A) 0.5 Amp to 5.0 Amp ,or B) 1 Amp to 8 Amp, depending of the model. Feedback winding current is measured during cycle by period. Chopper driver with over current protection, Over temperature protection, and Under Voltage Protection. Real Time Temperature Heat Sink read allowing the best motor performance vs. ambient temperature
Host Interface
USB HID Interface, full compatibility with: Linux Embedded, IOS, MS Windows,AWS, NO driver is needed.
rmv_Tasker Module
Connected via IDC Connector, SPI High Speed, Modbus (TCP-RS485), Web Server, HTML,IGMP,MQTT, JavaScript, 32MB File System.
Motion Mode
Speed control, Position Control, Trapezoidal, Velocity-contouring profile, Hardware Sequential Motion Setting, Electronics-Gear Profile, Parabolic, Spline, S-curve point to point profile.
Step Counter Register
−(231) to 231 − 1.Similar for Encoder Register when is enabled
Speed Register
Maximum slew rate ▒ 25,000 step/sec.
Motor Limits
Isolated Limit Switches Left, Right, Home, and Stop.
Voltage supported from 5V to 24V.
FIFO Memory
Programmable Internal FIFO RAM 700 words for different steps mode.
Analog Channels
2 analog input channels
Closed Loop
Optical Encoder A, B, and Index (5V to 24 V input signal) capability for each axis.
Ramp Controller, Speed calculation feedback.
Motor Parameters
In each axis, motor parameters can be programmed, like : motor inductance, winding current, winding resistance, step per revolution, and motor power. This parameters will optimize motion performance for the application.
Different Triggers Mode
Hardware Triggers: Two Isolated External (5V to 24V ), rmv_Tasker Control
Software Trigger: Command rigger and Sequential Trigger internally
Emergency Stop
Isolated push button input for emergency stop. Range: (5V to 24V )
Status Event Register
Motion Complete , Position wraparound, Trigger, Command Error, Limit Switch Reached, Home, FIFO Status, etc.
Activity Status Register
At maximum velocity , Position Tracking, Current Profile mode, Axis settled, Motor Mode, Position Capture, Step Mode, In-motion, S-curve segment, FIFO bytes free ,Program Counter, Command Counter, etc.
Internal Report Status
Encoder Counter Register, At HOME, At A Limit Switch, STOP, User digital IO's, Analog inputs, Chopper status, Steps Counter Register, FIFO Pointer, etc..
Technical Specifications
---
Power Requirements
Single Power supply range:16VDC-50VDC, regulated
Analog Channels
Two analog inputs: 4mA-20mA and (0V-5V)
Isolated Digital Inputs
Four input channels 5V to 24V
Isolated Digital Output
Six output channels 5V to 24V
Isolated Motor Signal
Limit Switches: LSW_LEFT, LSW_RIGHT, HOME, STOP, EXTL_TRIGGER.
Voltage Range: 5V-24V
Isolated Encoder Input
Isolated Encoder inputs A, B and Index , Voltage Range: 5V-24V
Host Interface
USB 2.00 high speed HID, mini USB connector
Heat sink Real Time Temperature
Ready Temperature measurement for motor power calculations, Maximum =150 ºC
Digital Voltage Output
Voltage Output:5VDC, Maximum Current: 0.5 Amp
Two LED Indicators
"Orange": USB Connection ESTABLISHED, "GREEN": Healthy POWER ON
Board Dimensions
Dimensions: 8"x5", RoHs Comply
Operating Temperature
Industrial Grade: -30ºC to +85ºC. High Temperature support
Conform to UL-CSA, CE, FCC Standards.
ST600µNET Block Diagram
---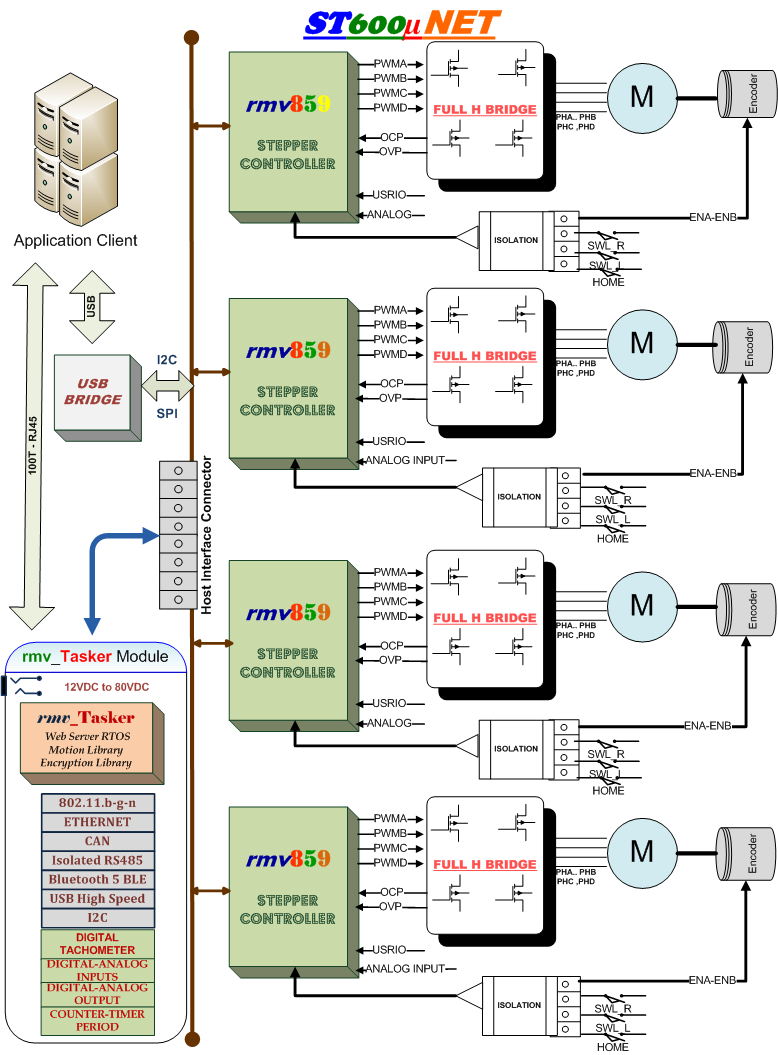 ST600µNET Ordering Part Number:
---
ST600µNet-5.0 (Motor Current 5 Amp continuous)



ST600µNet-8.0 (Motor Current 8.0 Amp continuous)

ST600µNET Where to find Information
---
The latest application source code, user guide, ST600uNET.dll and different library and O.S. support information, can be found at GitHub repository, Please click the following link: